It seems like nearly every soccer-playing kid has had a concussion these days. And even if we're lucky enough to have kids still in the clear, we're set on edge by the looming fear that the succession of "sub-concussive hits" now under intense scrutiny may be just as damaging as that one big blow that takes them out for an extended period of time.
If we're still reading, we may be confused about the "latest" in whether rest is best, whether and when to return to play, whether they should be excused from that really important test, and whether their social media cloister may be creating more stress for their brain than it's alleviating. All of this confusion comes my way via parents' calls and emails.
These are questions for someone with a lot of experience evaluating and working with kids and their brains. (I work mostly with healthy minds and bodies.) So, I consulted Dr. Elizabeth Delasobera, Director of Sports Medicine for Medstar Emergency Physicians, an assistant professor at Georgetown University Hospital who also sees patients in her clinic in McLean, Virginia.
I was privileged to meet her as part of a concussion panel hosted in Vienna, Virginia last year and found her to have reasonable and concrete answers to the questions we are all currently asking about concussions and our kids. A multi-sport athlete herself during her school days, she was kind enough to respond to my questions about this injury and its treatment.
***
WL: We know most uncomplicated concussions resolve within 7-10 days. When/how does an athlete qualify as "having" post-concussion syndrome (PCS)? How is PCS defined?
ED: PCS is identified as three months or more of symptoms (anything from headaches, cognitive symptoms, dizziness, etc) after a concussion.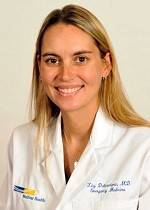 WL: Are there particularly troubling symptoms in PCS that suggest an extended time to recover?
ED: Patients with dizziness at time of injury predict longer recovery, as does a history of migraines, prior concussion, family history of migraines, history of depression, female gender, history of learning disabilities, history of motion sickness all lead to more prolonged concussion symptoms.
WL: Have most kids you evaluate for concussion had a baseline screening?
ED: Yes.
WL: What do you look for to clear an athlete to return to play?
ED: They should be symptom-free with a full school course load and tests, grades back to baseline, no issues outside of school, back to baseline on any testing (IMPACT, balance, other) normal physical exam and have passed a six-step return to play protocol.
WL: After a first concussion, are kids more susceptible to a 2nd concussion?
ED: Not necessarily, but they could have a longer recovery. History of concussion is a predictor of the next concussion being more severe.
WL: Have you recommended retirement from play for any athletes? If yes, on what basis do you make this recommendation?
ED: Yes. Multiple concussions in a short period of time, no return to baseline status (either cognitively or otherwise), a high-risk sport with prolonged symptoms, each concussion getting significantly worse than the prior, etc.
WL: Is the current accelerometer technology (in helmets, mouth guards, etc) useful to monitor and identify athletes at risk of concussion? If no, what are we missing? If yes, what do you recommend?
ED: The devices so far haven't been a good predictor of the shaking or rotational forces associated with concussion – but there are many new ones being studied that are promising.
WL: Is there a way to make the brain more collision- or concussion-proof?
ED: I don't think there is any way to make the brain more collision- or concussion-proof, but strengthening the neck muscles can help prevent injury.
WL: Does the "epidemic" of sport brain injury suggest that, beyond increased reporting, kids' brains may be more susceptible to this injury than in the past?
ED: I don't think there is a higher susceptibility to concussions now, other than we have more kids playing contact sports and more females playing sports than we did even 20 years ago, and because we know more it's being diagnosed more.
***
If your child plays soccer or another sport where concussions are on the rise, find a physician who you can have this kind of conversation with. Physicians who specialize in working with young athletes and have experience diagnosing and treating these injuries are clear, concise and no-nonsense. Often they have a background as a competitive athlete, as Dr. Delasobera does, and can empathize with your child around the struggle associated with this injury and its proper treatment.
My last question: I occasionally get requests for a recommendation regarding where to get a concussion evaluation. May I recommend you?
In approximately 2 seconds she replied, "Of course! My clinic is 703-288-8260 and located in McLean."
If we want our kids to play hard, we have to play it smart. Get to know a medical professional with expertise you trust before you need them. That'll help you rest a bit easier.