As Ramadan, the most sacred month of the year in the Islamic faith, begins Monday, I wanted to share an article I wrote for Soccer Wire in 2015 when the Men's World Cup was being competed. As an exercise physiologist, I found it concerning that athletes would engage in extreme levels of physical competition while intentionally abstaining from traditional nutrition and hydration during the Ramadan fast. I was surprised by what these athletes discovered.
Athletes go to extreme lengths to be sure their bodies are in peak form to compete in this summer's Women's World Cup games, eating, drinking, and training pretty much to the exclusion of all else.
What if, once you got here, the practice of your faith demanded that you spend the month fasting from food and drink during the events?
This is the dilemma faced by athletes who, in strict practice of their Muslim faith, are required to spend the month of Ramadan fasting. From sunrise to sunset, adherents are to refrain from food, drink (including water) and smoking, and also to show increased self-discipline and restraint in behavior.
This is meant to draw the practitioner closer to God, in order to appreciate his or her blessings, and bring better understanding of what it's like to be hungry and empathy toward those who are poor. Muslims may also provide food or money for someone in need, such as an elderly relative, in order to fulfill a daily requirement.
D.C. United goalkeeper Bill Hamid was raised according to Muslim traditions in his Annandale, Virginia home, and sets an example as he incorporates the commands of his faith with the demands of professional sports performance, an effort journaled by the Washington Post's Steven Goff a few years ago.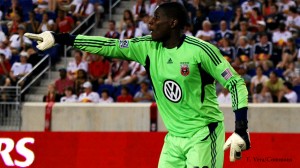 But this challenge is extreme in the Canadian summer. The sun rises at about 5 a.m. and sets between 8:45 and 10 p.m. depending on your longitude and latitude, and the whims of the FIFA scheduling of matches.
That's a long time not to eat and drink, especially if you're an athlete, and particularly if your training and sport is competed over an extended length of time, in the heat of the day and requires a great deal of sustained physical effort. Like soccer.
During Ramadan, Muslim athletes observing the fast would almost certainly be at a disadvantage, enduring decreased energy levels, dehydration, disrupted sleep patterns and the resulting loss of focus and attention. Over the 30 days, a negative energy balanced certainly could take its toll, and may increase the risk of overuse and non-contact injuries.
Ramadan, which last year began on June 28, just as the knockout stages of the men's World Cup got underway, was the first time since 1986 that the tournament coincided with Islam's holy month. In 2012, it was a source of concern amid the Summer Olympic Games in London.
Could athletes compete? Would their performance be compromised? Their health? Should accommodations be made?
Islam provides for some exemptions from the Ramadan fast for those who are sick, pregnant or menstrating, the infirm or the elderly. Those traveling also may be excluded, so some World Cup athletes might elect to be excused on this basis.
Some athletes elect to take a middle ground, as Hamid has: observe the fast on days off or light training days, but consume normal food and drink on heavy training or competition days.
Supporting these dietary demands presents quite a challenge for the health and fitness personnel who are doing their best to meet the athletes' needs, though maybe not be so different from the finicky nutrition of athletes who have gone gluten free and are "eating to their blood type" like Christie Rampone.
Ironically, studies that have looked for changes in the performance of Muslims observing the Ramadan period of fasting have found little decline. And several high-performing athletes provide anecdotal evidence that it can be done with good success.
Former Houston Rockets center Hakeem Olajuwon fasted during his NBA career, even during one NBA Finals, and claimed that his play improved. Former Vikings safety Husain Abdullah didn't drink water during workouts, and he was fine. In fact, many Muslim athletes report experiencing their best workouts in the mornings during Ramadan, crediting the increased focus and the strength offered by the strict adherence to their faith.
But a month of games on turf, especially with sultry mid-day events, may present a challenge that anyone would be hard-pressed to overcome, even by extra religious adherence. One wonders, with temperatures on the artificial turf reportedly reaching 150 degrees, what it must feel like to be parched, exhausted and seeing double of each of your teammates getting water while you decline it.
"Hydration is the most problematic and potentially detrimental to performance as it isn't just fluids that are missing; but the fluids from foods that are missing from the daily intake," Washington, D.C.-area nutritionist Sharon Staier told me by email. Performance declines even before we know we are thirsty. Imagine if it has been 17 hours since your last sip of water!
FIFA acknowledges the risks to these athletes. Their medical advisors have been studying the issue for some time and published a helpful supplement in The Journal of Sports Sciences just before the 2012 Olympics, though their statement highlighted an additional dilemma.
"We have been running tests for nearly 10 years," said Dr. Yacin Zerguini, who is a member of the FIFA Medical Committee. "There are a lot of challenges during Ramadan for athletes and the most important one is the challenge of sleeping. Fasting changes the chronological phase of players. It is important to know how to re-organize sleep and then it is important to deal psychologically with hydration and diet that change during this month."
So how can we protect the health of the athlete who chooses to fast during Ramadan while continuing to train and compete? They may be able to prevent fatigue and preserve performance by:
eating "slow-release" carbohydrates in the pre-dawn hours
minimizing the consumption of quick release carbs like simple sugars
drinking plenty of fluids, pre-dawn
not training in the heat of the day
taking a siesta in the mid-day
replenishing after sundown with plenty of proteins and quality carbohydrates
or scheduling training and competition early in the day when fuel and hydration tanks are full.
But studies, position statements and sport science supplements won't protect the health of athletes. That will come when tournaments, competitions and schedules are designed in consultation with the athletes, their trainers, and/or medical advisors.
FIFA, while you're at it, maybe consult with some groundskeepers for some good old-fashioned grass that doesn't scorch and blister their feet.
(First published on SoccerWire.com June 30, 2015)