I read in Washington Post columnist Steve Goff's recap of the Spirit vs Flash 1-1 tie that Abby Wambach "remained in the match and assisted on her team's 85th minute goal. But at the final whistle fell to her knees and later required medical attention."
This in light of Spirit Goalkeeper, Ashlyn Harris' comments:
"She got peppered in the face from point blank distance…I could tell she was pretty dazed. I said 'Are you all right?' She was mumbling. That's not a good sign."
I have a problem with this. Because I am reading the American Academy of Neurology Analysis of the new concussion guidelines (from their 665th annual meeting). It says,
"Suspect a concussion? Take them out."
Here's the longer version: "The AAN guideline insists that players who experience symptoms suggestive of concussion, such as blurry or double vision, confusion, dizziness, headache, nausea, memory loss, or other cognitive or behavioral problems, must have full resolution of their symptoms (off medication) and approval for return to play by an LHCP. (Licensed Health Care Provider) … This recommendation is echoed by the American Medical Society for Sports Medicine position statement, which clearly prohibits same-day return to play for an athlete diagnosed with a concussion."
Abby circumvents this, I guess, by not coming out. So, who's right? The pro player who is 3 goals from surpassing Mia Hamm as the all-time scoring leader, or the physicians in their 665th annual meeting?
It doesn't matter who's right. What matters is: who are kids and their coaches watching and listening to?
That answer is clear. We idolize Abby Wambach. Okay, I idolize Abby Wambach. She is spokeswoman for everything good going on in women's soccer in America today. We listen to her. We watch her. We follow her on twitter. Her morning-after tweet:
"I'm all good here everyone. Thanks for the well wishes."  That, along with this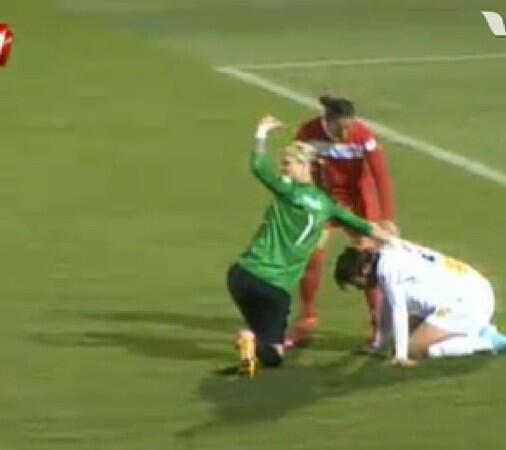 :
But that's twitter.
Here in the real world we're raising kids differently, right? We take precautions when we suspect a head injury, right? We take them out, even if it's a tense moment and the game matters, right?
Right?
I can preach the virtues of injury prevention and being fit to finish all day and into the night, but when a pro player stays in the game while obviously suffering from a concussion, that negates the medical message.
Because isn't that what we celebrate in sports? The never-say-die attitude? The play until you drop approach? The fortitude to take a licking and keep on ticking?
It is. And we better be prepared to pay for it. In injuries. Surgeries. Time out of play. And perhaps in long term ailments that will follow these kids through all their days.
Dear Abby, You are an amazing athlete and a remarkable champion. You are probably the one in (more than) a million exception to the rule: 'take me out because a player from the bench can fill in.' No one can take your place. Subs can't approach even the 'dazed' version of your play. You are irreplaceable. And that is exactly why you (or your teammates) need to usher you to the sidelines when you're injured. Because you're too valuable to lose. Just like all these children on the youth soccer fields of America. They may be politely listening to me, but they are watching you. Sincerely, Wendy R. LeBolt, PhD Fitness Professional, Soccer Enthusiast, Coach and Parent