Our kids need coaches. They need adults who will spend a couple hours a week on the fields with them and will root from the sidelines one day each weekend. It's a lot to ask of people these days, what with families going every which way, jobs claiming more of our time, volunteer responsibilities clamoring on all sides. I know all of this about people when I tell them: "Our kids need coaches."
If you want to know the truth, I said yes to being a first time head coach because they told me I could choose the days, times and locations for practices. That's all. I didn't know the game well, but I had grown up playing a smorgasbord of sports including soccer. I figured I could pick up the rest by reading, taking some coaching courses, and playing with the kids. I could and I did.
Here's the trick: the kids show you how to coach them if you pay attention.
That's the funny thing. Suzy's mom will come to you and say, quite apologetically, "Suzy is just not aggressive like the other children. Can you help her?" But I know Suzy. She's a quiet kid – obedient, dutiful, smart, but mild. She does what you ask her to as long as you show her how. But, taking the ball from one of the other kids? That's just not in her repertoire. She will need help understanding how to play that game. That's why you coach.
Yes, it's your responsibility to learn the skills well enough to teach them, and to practice until you build proficiency to demonstrate them, but the real job of the coach is to show kids the game. That just takes looking, listening and a heart that doesn't give up on kids who because many times their best is not enough – at least not to them. That's why you coach.
When my kids started to play I volunteered. I didn't know how to coach them, so I let them show me. We gathered a group of regulars who liked to compete, so I took a travel team. That's when I really found out why I coached. It wasn't pretty.
The league coordinators told me it couldn't be done. "There's not enough interest… definitely not enough talent to form another travel team," they warned. I took their warning as an invitation, no,  a challenge, to hold tryouts.  A dozen showed up, eleven 10-year olds and one younger sister. A ramshackle bunch, for sure. They were not skilled like the players from other teams: slow afoot, not all that coordinated or athletic, but they oozed enthusiasm and heart. Surely I could build on that, I thought. We named our team "The Spirit."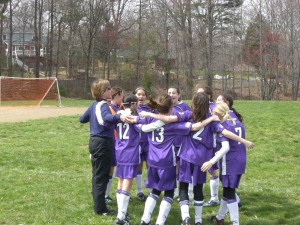 Having assembled our even dozen to play 8v8 ball, we outfitted them in uniforms and held a team summer camp. We practiced with some urgency because our pre-season tournament was fast-approaching.  I had petitioned the tournament director to put us in the lowest division – the one for newly formed travel teams – but he didn't have enough teams for a third division. We'd be in Division 2 playing against strong, experienced, proven competition. I knew what we were in for.  I lay awake imagining the drubbing we would take. I had no idea.
I awakened before dawn that Saturday morning, hoping against all odds that this weekend's experience wouldn't devastate these kids and leave them hating the game of soccer and sorry they had joined the team. I arrived early at the field, and several very excited players and their families were already there to greet me.  Our youngest player sought me out. "Coach, if we win our two games today, will we play in the championship tomorrow?"
Trying not to betray my misgivings I told her, "Let's just focus on one game at a time and see how it all comes out." The final whistle heralded our first score: 12-0. We were the "0."  The afternoon game was no better: we lost 18-1.
"It's just hard to get 10-year-olds to stop shooting," the opposing coach offered lamely. Really? Our Sunday morning opponents took it easy on us: 12-0 again.
The afternoon sun beat down on us as we took the field for our fourth and final game. Clearly, the other team had gotten word that we were ripe for the picking. The more they scored, the more they celebrated. Their parents were on their feet. "Be more aggressive!"  "Shoot!" Our over-matched defenders were powerless to slow the onslaught. Our hapless goalkeeper was so rattled she punted one ball backwards!
The halftime break was pretty lifeless. What could I possibly say to lift the spirits of 12 little girls who, the morning before, dreamed of winning?  Their opponents, huddled by the other team bench, sat in rapt attention while their coach sketched out an even more venomous strategy for the second half.  "Well, let's see," he said. "Which of  you hasn't scored a goal yet?" Their answering chuckles made my blood boil.
As we gathered for the beginning of the second half I was secretly grateful this would soon be over, but the Spirit team cheer rang out loud and clear anyway. "1-2-3 PLAY WITH THE SPIRIT!" they shouted as we launched the starters to their field positions.  I could hardly stand to watch, wanting so badly to run out and play for them. To take the beating so they didn't have to.  Instead I stood helplessly at field's edge, a shield for my players on the bench. At least these three were safe.
Those three startled me with cheerful shouts of "Go Spirit!" as they waved a photo of the team mascot. How could this be? The score was 10-0 and threatened to go higher, yet the players on the sidelines begged me to let them go back in the game. They actually wanted to give their teammates a break and were more than happy to stand in the fire. Their spirit was not disenchanted as I feared and, frankly, as mine was. It was still alive and going strong.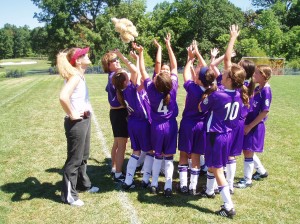 "Anyone want to go in as goalkeeper?" I said. Three hands shot up.  Avery ran over to me. "I will, coach. Put me in." At the next opportunity, in ran Avery and out came Emily, high-fiving with equal vigor in the exchange.
I just shook my head. Who would willingly run into a losing battle like this? Obviously, a kid who loves to play.
We were all glad to hear the final whistle, perhaps my team parents most of all. The Spirit players collected on the sideline for the perfunctory high-five line thanking the other team for the game. I fell in at the end, shaking the hand of the opposing coach, but I was in no mood to congratulate him. His behavior was reprehensible. What was he trying to prove? I really wanted a word or two.
But before I could speak, we both turned to the sound of the Spirit players happily chanting the name of the opposing team. The Spirit had formed a human tunnel and were encouraging the victors to run through it. What an amazing gesture of pure graciousness, to which their opponents responded in kind. 
That day, those eleven ten year olds and a kid sister taught me a lesson I have never forgotten. That's not what got me to sign up, but it's why I still coach.
There really is no experience necessary. The kids will teach you everything you need to know.
So, why don't you coach?